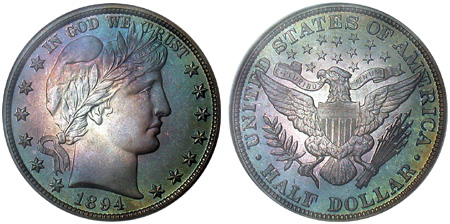 The Philadelphia Mint struck Proof Barber Quarters (Buy on eBay) for collectors from 1892 to 1915, covering each year of the series with the exception of the final year. With a total of 24 different coins and all issues relatively available, a complete collection is an approachable goal for present day collectors.
The 1892 Proof Barber Quarter had the highest mintage at 1,245 pieces. This was driven by greater demand for an example of the first year of issue for the new design. Mintage levels declined in subsequent years, always remaining below the 1,000 mark. The lowest mintage occurred in 1914 at only 380 pieces.
As is the case for other coin series of the era, these proof coins have a relatively high survival rate since they were sold directly to collectors or dealers. This results in all proof issues of the series being relatively available. The most important factor when building a collection is originality, since over the years some pieces have been dipped or improperly cleaned. Another consideration is the presence of cameo or deep cameo contrast, which many collectors will pursue.
Proof Barber Quarters graded Proof-65 can typically be purchased for around $1,500 to $2,000 each, with premiums attached to pieces exhibiting attractively toned original surfaces or deep cameo contrast. There are a number of proof issues graded Proof-69, which have sold for around $30,000 each when available.
Proof Barber Quarter Mintages
| | |
| --- | --- |
| 1892 | 1,245 |
| 1893 | 792 |
| 1894 | 972 |
| 1895 | 880 |
| 1896 | 762 |
| 1897 | 731 |
| 1898 | 735 |
| 1899 | 846 |
| 1900 | 912 |
| 1901 | 813 |
| 1902 | 777 |
| 1903 | 755 |
| 1904 | 670 |
| 1905 | 727 |
| 1906 | 675 |
| 1907 | 575 |
| 1908 | 545 |
| 1909 | 650 |
| 1910 | 551 |
| 1911 | 543 |
| 1912 | 700 |
| 1913 | 613 |
| 1914 | 380 |