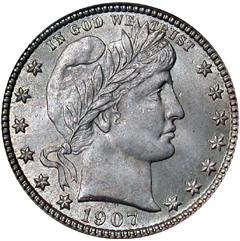 The Barber Quarter was minted from 1892 to 1916. For the initial portion of the series from 1892 until 1903, coins were struck each year at the New Orleans and San Francisco Mints. From 1906 until the end of the series, production took place at the Denver Mint for most years. After 1909, no further coins for the denomination were struck at New Orleans. The Philadelphia Mint produced coins across all years of the series.
The mintages range from a high of more than 12 million for two years to an absolute low of just 40,000 pieces for the 1913-S Barber Quarter. The two other notable low mintage years are the 1901-S with a total of 72,664 pieces produced, and the 1896-S with at 188,039. These three issues command significant premiums even in well circulated grades and represent "stoppers" for most collections.
Below is a table displaying the mintages for Barber Quarters struck for circulation.
Barber Quarter Mintages
| Issue | Mintage |
| --- | --- |
| 1892 | 8,236,000 |
| 1892-O | 2,640,000 |
| 1892-S | 964,079 |
| 1893 | 5,444,023 |
| 1893-O | 3,396,000 |
| 1893-S | 1,454,535 |
| 1894 | 3,432,000 |
| 1894-O | 2,852,000 |
| 1894-S | 2,648,821 |
| 1895 | 4,440,000 |
| 1895-O | 2,816,000 |
| 1895-S | 1,764,681 |
| 1896 | 3,874,000 |
| 1896-O | 1,484,000 |
| 1896-S | 188,039 |
| 1897 | 8,140,000 |
| 1897-O | 1,414,800 |
| 1897-S | 542,229 |
| 1898 | 11,100,000 |
| 1898-O | 1,868,000 |
| 1898-S | 1,020,592 |
| 1899 | 12,624,000 |
| 1899-O | 2,644,000 |
| 1899-S | 708,000 |
| 1900 | 10,016,000 |
| 1900-O | 3,416,000 |
| 1900-S | 1,858,585 |
| 1901 | 8,892,000 |
| 1901-O | 1,612,000 |
| 1901-S | 72,664 |
| 1902 | 12,196,967 |
| 1902-O | 4,748,000 |
| 1902-S | 1,524,612 |
| 1903 | 9,669,309 |
| 1903-O | 3,500,000 |
| 1903-S | 1,036,000 |
| 1904 | 9,588,143 |
| 1904-O | 2,456,000 |
| 1905 | 4,967,523 |
| 1905-O | 1,230,000 |
| 1905-S | 1,884,000 |
| 1906 | 3,655,760 |
| 1906-D | 3,280,000 |
| 1906-O | 2,056,000 |
| 1907 | 7,192,000 |
| 1907-D | 2,484,000 |
| 1907-O | 4,560,000 |
| 1907-S | 1,360,000 |
| 1908 | 4,232,000 |
| 1908-D | 5,788,000 |
| 1908-O | 6,244,000 |
| 1908-S | 784,000 |
| 1909 | 9,268,000 |
| 1909-D | 5,114,000 |
| 1909-O | 712,000 |
| 1909-S | 1,348,000 |
| 1910 | 2,244,000 |
| 1910-D | 1,500,000 |
| 1911 | 3,720,000 |
| 1911-D | 933,600 |
| 1911-S | 988,000 |
| 1912 | 4,400,000 |
| 1912-S | 708,000 |
| 1913 | 484,000 |
| 1913-D | 1,450,800 |
| 1913-S | 40,000 |
| 1914 | 6,244,230 |
| 1914-D | 3,046,000 |
| 1914-S | 264,000 |
| 1915 | 3,480,000 |
| 1915-D | 3,694,000 |
| 1915-S | 704,000 |
| 1916 | 1,788,000 |
| 1916-D | 6,540,800 |