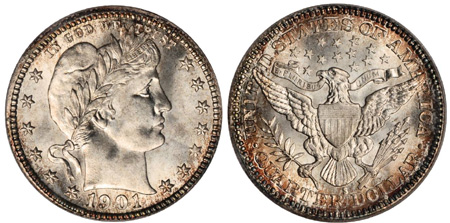 The 1901-S Barber Quarter is known as the "King of Barber Coinage." The issue has a mintage of 72,664 and is known as the most difficult coin of the series to acquire in any grade. The reasons for the low mintage of the 1901-S Barber Quarter are not known, although one researcher has suggested that a large number of the previous years quarters were not yet distributed.
Despite the exceptional rarity of this issue, it is worth noting that it does not have the lowest mintage of the series. This distinction belongs to the 1913-S. The rarity of the 1901-S comes from the fact that very few examples of the coin were saved, with the majority entering circulation and some being melted afterward.
This key date coin is rare and in demand in any grade, especially so in problem-free condition. Examples graded Good-4 to Good-6 typically sell for prices in the $4,000 to $6,000 range. Price levels quickly increase for better condition examples.
The single finest known 1901-S Barber Quarter is graded an astounding PCGS MS68. It is believed that the coin was purchased by a collector directly from the San Francisco Mint in the year of issue, accounting for its remarkable condition. The coin was purchased at auction in March 2010 for $327,750 and then immediately resold to a collector.

Coin Specifications
| | |
| --- | --- |
| Date | 1901 |
| Mint Mark | S |
| Mint Location | San Francisco |
| Composition | 90% Silver, 10% Copper |
| Weight | 6.25 grams |
| Diameter | 24.3 mm |
| Designer | Charles E. Barber |
Coin Mintages